Despite the growth of television and the web, print advertising remains an extremely powerful marketing tool. Fully aware of this, agencies are constantly pushing creative boundaries in order to reach their target audience. And as this round-up of our favourite print ads from this month shows, the great ideas just keep coming...
01. Brinox knives
Created by Brazilian designer Andre Blanco, the ads for a range of knives play cleverly with the idea of the food chain. We love the way Blanco has placed each animal in the clutches of another, seamlessly bringing together the advertisement in a gorgeous and creative way. Take a look at the rest of the advertisement series and be blown away.
02. El Universo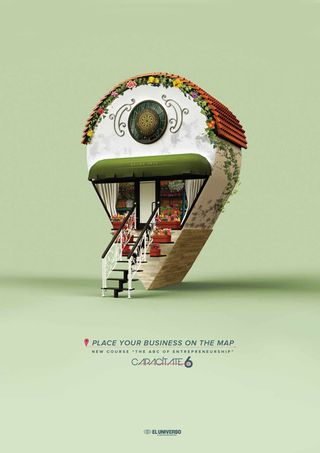 Ecuadorian agency Koenig & Partners created this print ad for daily newspaper El Universo's campaign promoting its new training course, 'The ABC of Entrepreneurship'. With the tagline 'Place your business on the map', utilising the familiar location symbol is perhaps not the most original idea but the execution is charming.
03. Splashdown
These adverts for water park Splashdown were designed by agency Rethink Canada to recreate the effect of visiting the attraction without actually getting wet... The images of people shaking themselves like drenched dogs were cunningly placed between 'water-damaged' fake ads – look out for the cheeky umbrella in the Ralph's Lawn Care 'ad' too!
04. Leafly
Cannabis information website Leafly's full-page ad in the New York Times broke new ground by being the newspaper's first-ever marijuana advertisement. The ad focuses on addressing the way medical marijuana can help treat several medical conditions, utilising Periodic Table-style cells to emphasise science rather than stoners, plus the prominent 'Just Say Know' tagline.
05. Toronto Livegreen
Littering is something almost any village, town, city or state suffers from and The City of Toronto's Livegreen organisation decided to tackle the problem with these clever print ads – which was fine until they were accused of plagiarism and then had to pull the ads after the companies involved weren't too happy about their logos being associated with litterbugs. Still, it was an interesting offering while it lasted.
What was your favourite print advertisement of August? Let us know in the comments box below!