Adobe Cyber Monday deals are always welcome for those who have been waiting for the right moment to grab access to the company's industry-leading design software. But this year's deals offer the biggest season discounts we've ever seen. New Adobe subscribers can get the Creative Cloud all-apps plan half price for a year, plus one month free.
This rare half-price deal gives you access to over 20 creative apps for photo and video editing, graphic design, illustration and more, including industry-standard programs like Photoshop, Premiere Pro and and AI image generator Adobe Firefly AI. These are among the most highly rated creative tools around, regularly topping our own buying guides. You also get Adobe fonts, templates and more. All for for US$29.98 / £28.48 per month.
Find full details of the Adobe Cyber Monday deal below. If you're looking for Cyber Monday deals on hardware as well as software, make sure you see our guides to the best Apple Cyber Monday and MacBook Cyber Monday deals.
The best Adobe Cyber Monday deal: US and UK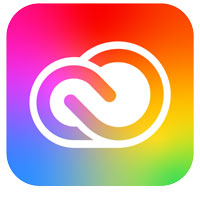 Adobe Creative Cloud All Apps plan – US
Was: $59.99/month
Now: $29.98/month
Save: $30.01/month for 12 months
Adobe Creative Cloud All Apps plan – UK
Was: £56.98/month
Now: £28.48/month
Save: £28.50/month for 12 months
Businesses save 30%. Students and teachers can save 18% on top of the usual education discount.
Overview: Whether for illustration, graphic design, photography, video editing or AI image generation in Firefly, Adobe Creative Cloud remains the most complete and widely used suite of design software in a wide range of creative sectors. The major programs are available for Mac and Windows, and some are also provided for iPad. They're updated regularly with new industry-leading features, and as a subscriber you get access to all updates immediately.
Features: This Adobe Cyber Monday deal includes access to all of Adobe's main creative apps, including Photoshop, Lightroom, Illustrator, Premiere Pro, After Effects and InDesign. You also get 100GB of cloud storage, access to Adobe Fonts and 1,000 generative credits for the Adobe Firefly AI image generator.
Price history: Adobe offers deals throughout the year for new subscribers, but these typically offer around 20% off. Adobe Cyber Monday deals are usually better than that, but 50% off is the best we've ever seen (last year Adobe offered 40% off during Black Friday and Cyber Monday). Any bigger deals are usually for students and teachers only. This half-price deal started last week ahead of Black Friday and is scheduled to end this Sunday, 3 December.
Reviews: Many of the apps included in Creative Cloud feature at or near the top of our own buying guides for different creative fields (see our glowing reviews of Photoshop, Lightroom, Illustrator, Acrobat Pro and Premiere Pro). The only real downside to Adobe Creative Cloud is the subscription model, which requires a monthly payment (although it does mean you always get the most cutting-edge new tools). This half-price deal helps lower the hit significantly for a whole year.
If you're not in the UK or US or you're looking for a single-app plan rather than a subscription to all of Adobe's tool, see below for the best prices. Also see our regular guide to getting an Adobe Creative Cloud discount.