It's fair to say I've had a love-hate relationship with the Apple Watch over the last few years. One minute I think it's a sleek and essential gadget for living a healthy life, the next I think it's a pointless and dorky trinket. Which probably explains why I've bought and returned three of them in as many years.
I've owned an Apple Watch Series 4, Series 6 and SE, and all three times the Watch failed to do enough within Apple's two-week returns window to persuade me that it's worth keeping. But it looks like a stainless steel Apple Watch Series 7 is about to break the mould. (Looking for an awesome Apple Watch deal? Check out our Apple Watch Prime Day live blog.)
My issues with the Apple Watch boil down to two main factors: the appearance, and the price. In terms of the former, no matter how sleek Apple makes the Watch look in its promotional materials, I've always found it toy-like in reality. Apple wants to have you to believe this thing can resemble a classy and expensive dive watch but even when paired with one of many leather or metallic straps, to me it looks more like the doctor-issued heart monitor thing my grandma wears on her wrist than a Rolex.
It wasn't until I saw the stainless steel version of the Apple Watch in the flesh that I realised this has a lot to do with the standard aluminium finish. It's clearly designed to look sporty, whereas I am not. But not only does the steel version bring more of that 'classic watch' vibe, it also features a much, much tougher sapphire glass display, so it won't look crap after a few weeks.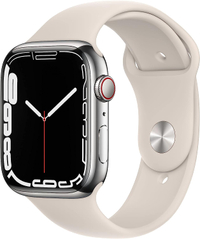 Apple Watch Series 7 (Silver Stainless Steel) at Amazon US: $649 $449
Save $200: If you haven't seen the stainless steel Apple Watch before, you might not know what all the fuss is about. With a much stronger sapphire display, it's far more durable, and the metallic finish looks a lot classier with leather and metal straps. And the Series 7 is practically the same as the Series 8, save for the lack of crash detection and temperature tracking.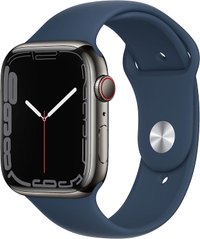 Of course, the downside of the stainless steel version is the price. For the series 8, prices start at £729, which is pretty ridiculous. So when I spotted a pre-Prime Day deal bringing the price of the stainless steel Series 7 to under £400, I decided it was, um, a steal. The 7, by the way, is pretty much the Series 8 minus temperature tracking and crash detection. And with new-ish features like the larger screen, always-on display and fast charging, it feels a more reliable and mature product than the one(s) I failed to get on with previously.
Sadly, that deal has now ended. But there are still offers to be found on the stainless steel Apple Watch Series 7 at Amazon, including over £200 off the 45mm graphite version in the UK, and $200 off the silver version in the US, bringing them down to £446 and $449 respectively. It basically means you can get the steel Series 7 for around the same price as a brand new aluminium Series 8. Which I'd say go for.
Of course, style is subjective and you might not give a toss about a slightly shinier material – fair play to you if so. But for that much stronger display, and the fact that the Series 7 is so close to the 8 in terms of features, it seems a no-brainer to me to opt for the more luxurious and tough version of the former. It's the first Apple Watch I'm going to keep – which is saying something.