We may live in a digital world, but our love affair with paper art has by no means diminished.
Here are some great of examples of paper art being used imaginatively within contemporary design, giving new life to one of the most ancient arts. You're sure to find the inspiration you're looking for...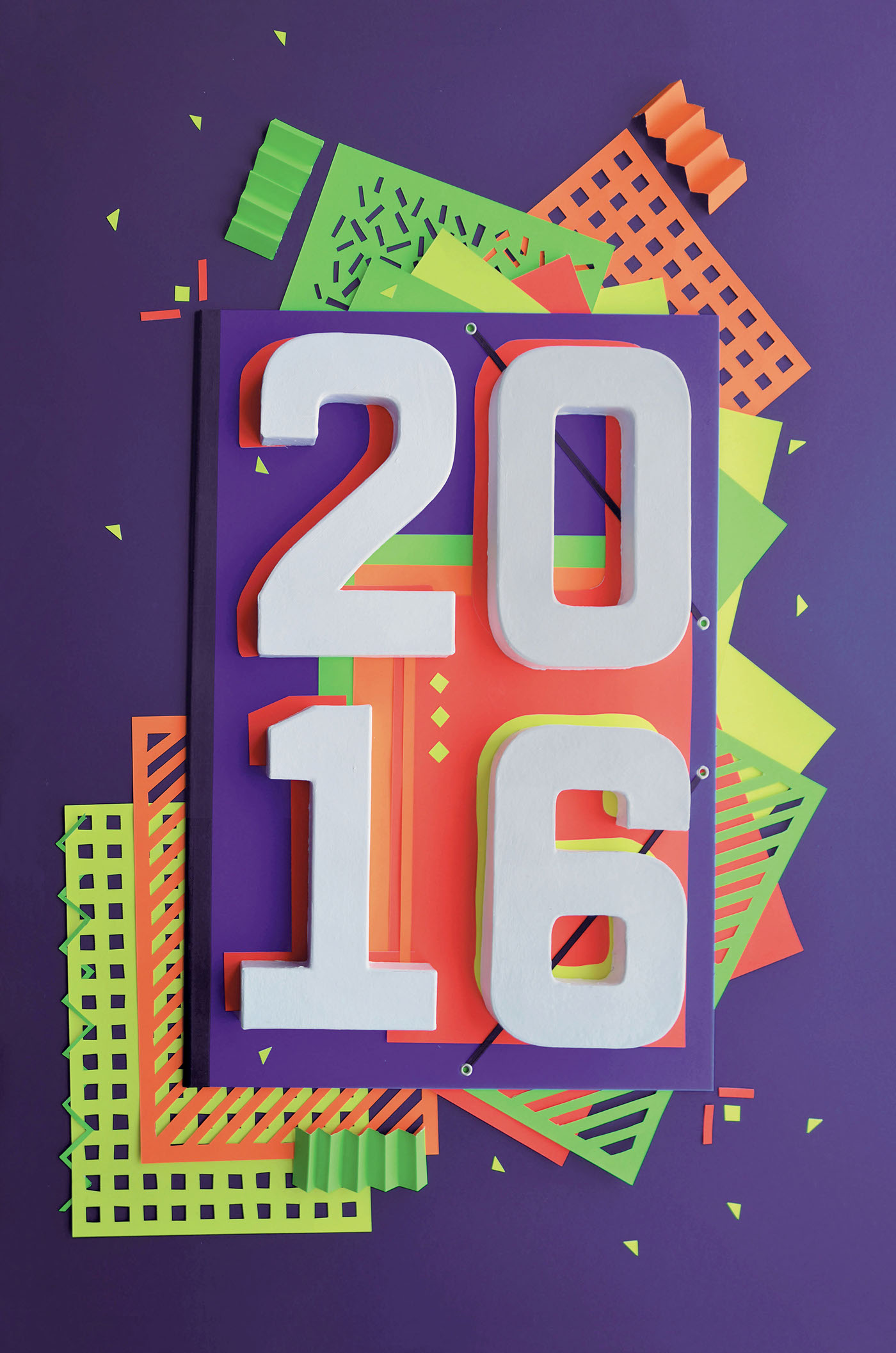 Solidifying their love of paper art are French artists Robin Gillet and Estelle Philibert, who have created this beautiful 2016 greeting card.
"Paper art is DIY work we really enjoy to see and to make, because handmade creation is something that, as graphic designers, we really had to know," Gillet explains. "It's the kind of project we feel is more human than any project you can make using software."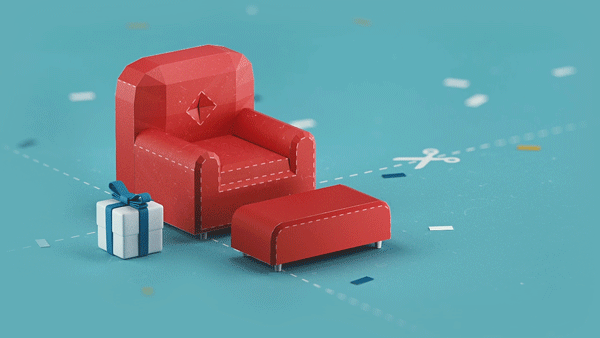 These adorable paper art animations were created for a recent Liberty Bank campaign. Featuring a Christmas tree, a cosy armchair, plenty of presents and a roaring fire, the execution is as festive as it gets. With the idea and storyboard crafted by Irakli Sabekia, Mamuka Okriashvili took charge of the paper sculptures.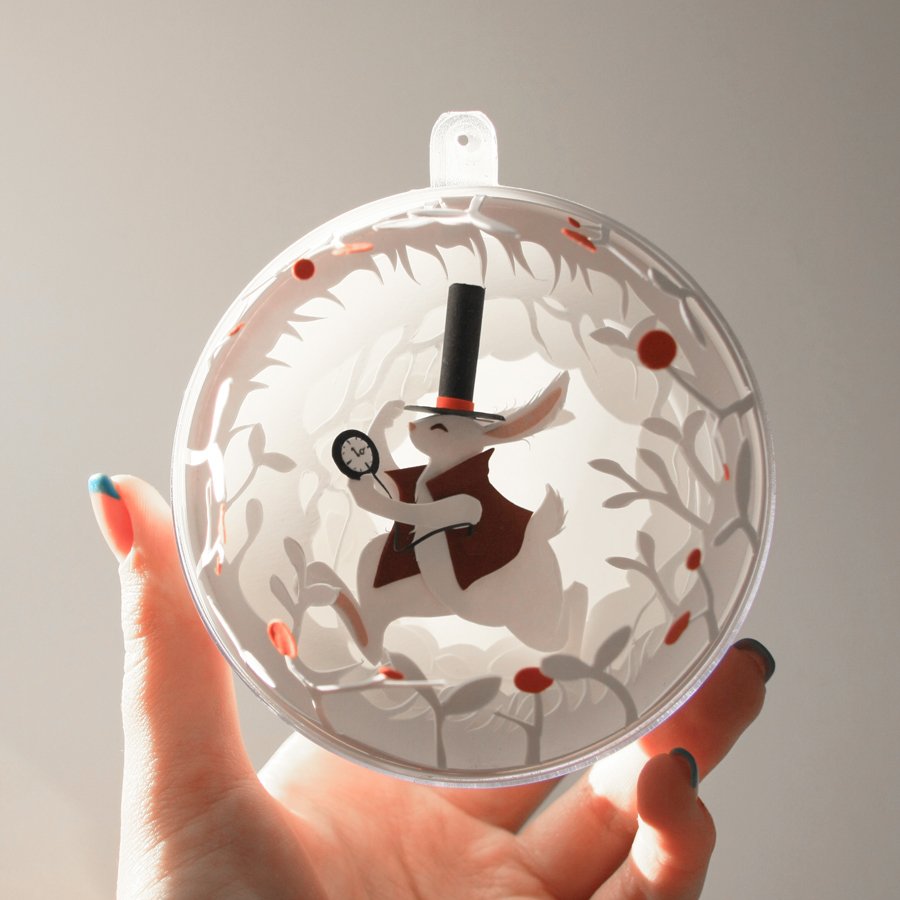 Combining her love of Alice in Wonderland and Christmas decorations, Moscow based designer Marina Adamova has crafted an entire range of paper art baubles that pay homage to some of the story's best characters. Including the white rabbit, Alice herself and the caterpillar, you'll fall head over heels in love with these.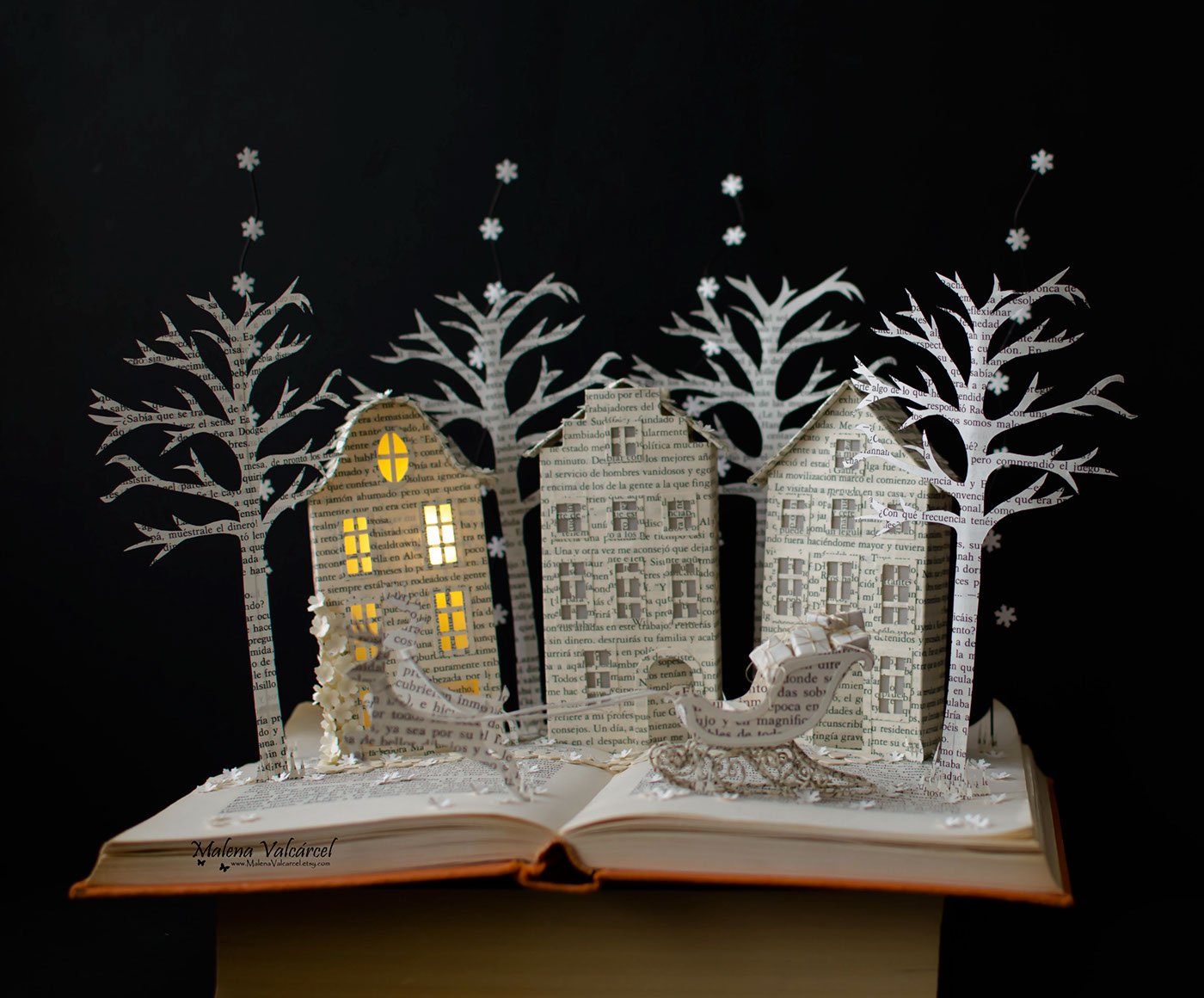 There's plenty of paper art out there that incorporates books into the design but this one is something special. Spanish designer Malena Valcárcel has crafted a Christmas wonderland with one of the tiny buildings lit up – it makes for a truly magical execution.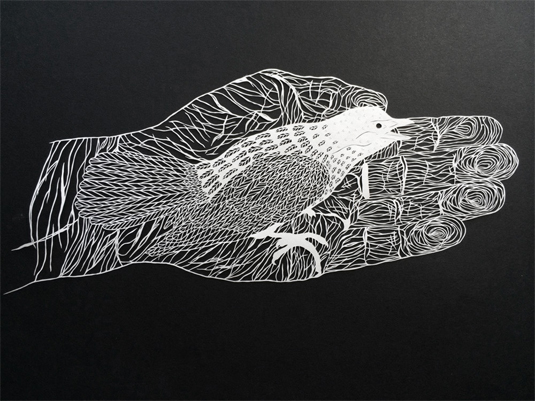 Artist Maude White likes to do something a little different when it comes to her paper art. Meticulously hand-cutting each piece, her works are of unfathomable detail.
Inspired mostly by nature, and creating pieces that feature birds, leaves and flowers, White also creates beautiful paper art portraits of people. Each piece can take thousands of tiny cuts, with White working for hours on end to perfect each piece of art.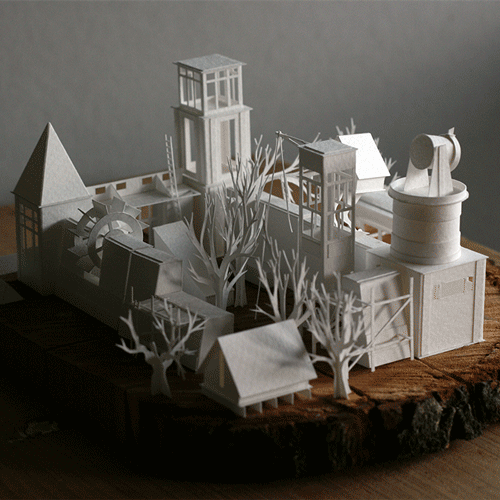 Artist and architect Charles Young is the genius behind a tiny moving paper world. It's made up of 365 paper structures (one of which is shown above), each mounted on a block of wood, or, occasionally, a potato.
Most have moving parts; bunting swaying in the wind, vehicles moving around, turbines and lifts in operation. He films each one doing its thing and uploads an animated GIF of the action. The models combine to form a single island city which Young hopes to exhibit.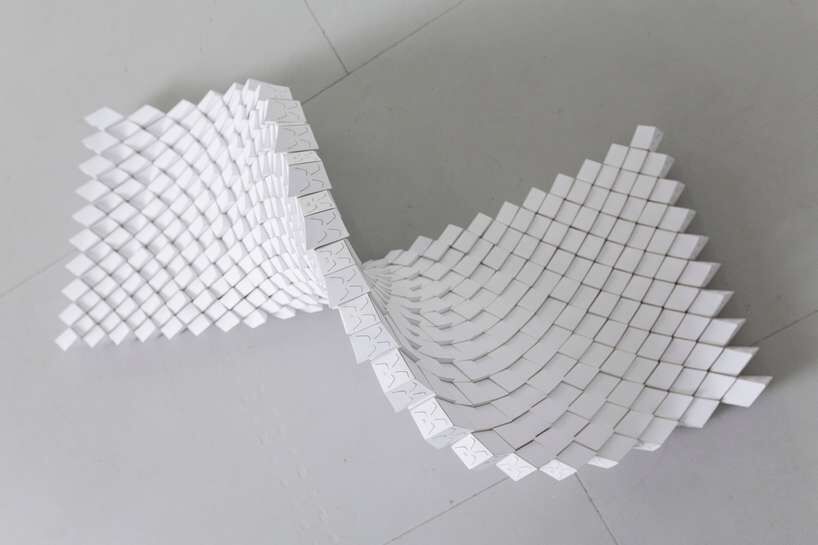 Redefining Paper is a project from James Cropper Paper – wanted to challenge the norm. "A creative process often starts with a white piece of paper, sketched on and discarded," he explains. "But, what happens when you ask a group of artists to make white paper the beginning, middle and end of a creative project?" they ask.
Well, what happens is a series of incredibly different yet wholly inspiring creations. From Rosanna and Clint's printable and customisable wall clock to Megan Ocheduszko's paper art jewellery, it just goes to show what a few sheets of white paper can really do. Check them all out on the project website.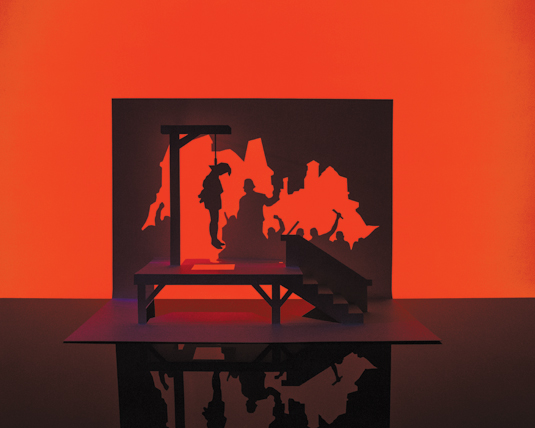 Making a living from paper art is a difficult task but thanks to his talents and enthusiasm, Marc Hagan-Guirey aka Paper Dandy has done just that. His latest venture, a book titled Horrogami, sees him recreating horror scenes using Kirigami – the Japanese art of cutting and folding a single sheet of paper to make intricate 3D scenes.
Horrogami presents 20 Kirigami projects, all inspired by cult horror tales such as Dracula, Frankenstein, Sleepy Hollow and King Kong, with each featuring step-by-step instruction and a template that can be pulled out of the book. Horrorgami: 20 Gruesome Scenes to Cut and Fold, is available to order here.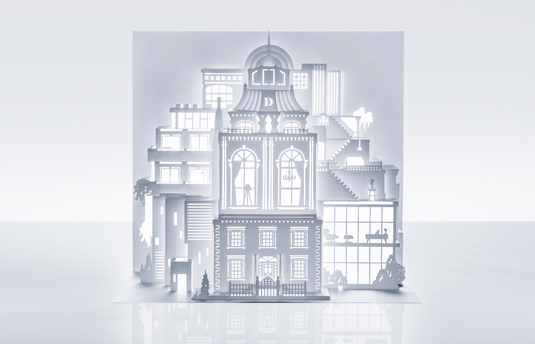 Just one example of Marc Hagan-Guirey's work in this list would seem like we were short changing you. So feast your eyes on his kirigami design for Decorex International, a company that puts on big interior design expos in the UK. It was used as the main creative for Decorex's 2013 campaign.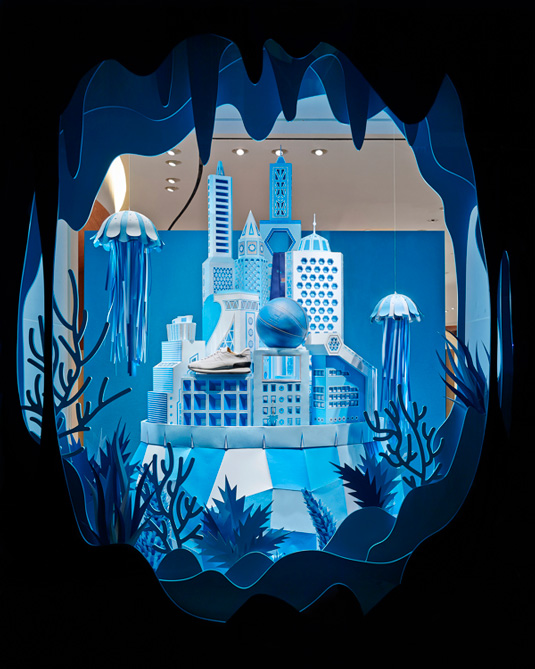 This beautiful, underwater paper world was created graphic design and illustration studio Zim & Zou back in 2013. The project was commissioned by French luxury brand Hermès, who hired the team to design the windows for the re-opening of its store located in Rodeo Drive, Beverly Hills.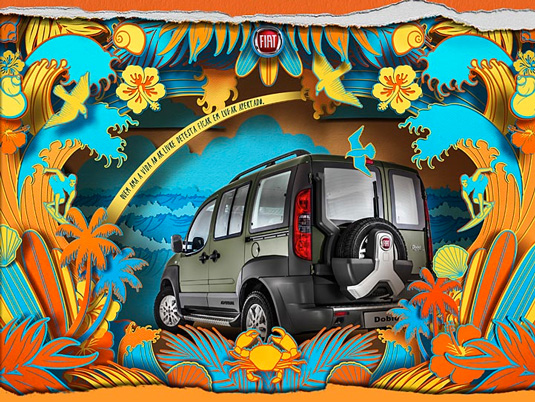 Brazil-based illustration agency D'Avila Studio created this vibrant paper art piece as part of Fiat Motors campaign to promote its new SUV, the Dobló Adventure. The team created two prints, both of which placed the paper overlapping on layers to create an impressive depth effect.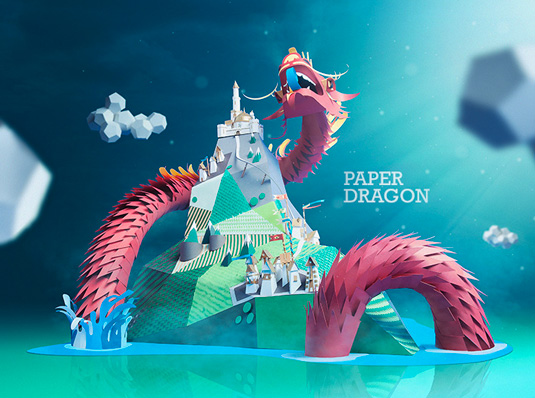 The amount of detail in this paper dragon blows our minds. A collaborative effort, this intricate piece took the steady hands of a number of Belgium creatives at INK studio. As the majestical creature overhangs the castle, we can't even begin to imagine how long this delicate project took to complete.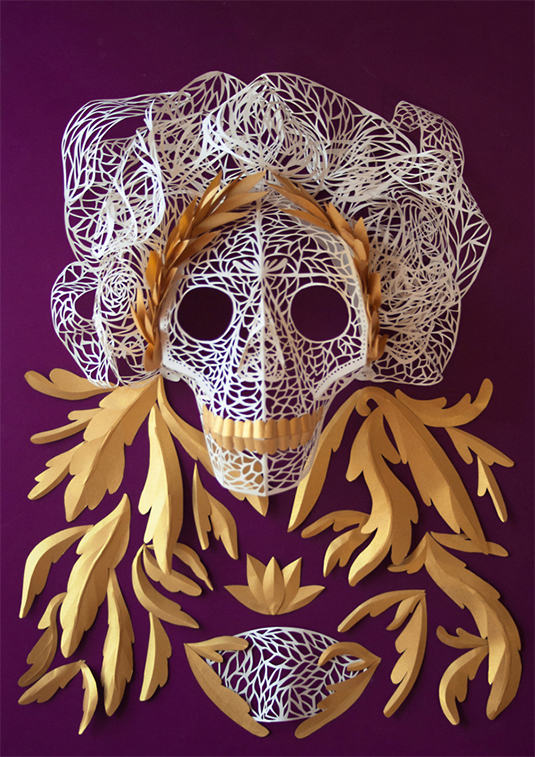 This incredible paper art series from Bulgarian based designer Tsvetislava Koleva, celebrates the Day of the Dead with intricate and colourful masks that quite frankly, took our breath away. Using a different colour palette for each offering, the series seamlessly comes together. Koleva specialises in paper art creations that have included sculptures, typography and more but it seems the Day of the Dead is her biggest inspiration to date.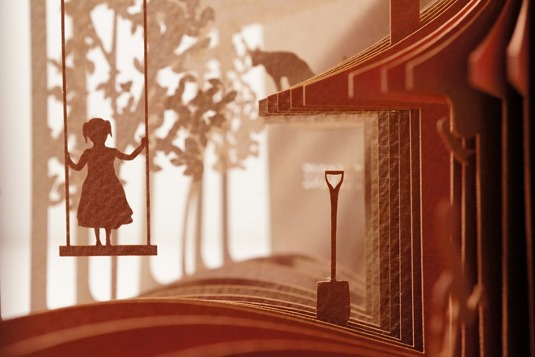 Japanese artist and designer Yusuke Oono creates books that open up to tell their stories as a multi-layered 3D scene. Each page is a separate laser cut plane, and together they make up deep and gorgeous 3D images that reveal the story as you make your way from the front to the back of the book.
Next page: 10 more wonderful pieces of paper art