We're big fans of the new breed of 'art TVs' out there – 4K TVs that can be wall-mounted with ultra-thin bezels, that double up as beautiful art frames when not being used as TVs. And the Samsung Frame TV is the most popular right now, so we're pretty excited to report that we've found a record-low price on the 50-inch model. Over at Woot! you can buy the Samsung Frame TV down from $1,299.99 to just $879.99.
That beats the previous all-time low price by $20. Back in December 2022, over at Amazon, the price for the 2022 50-inch model was down to $897.99 for a couple of months (it's currently $1,297.99). Beware, if you do want the Samsung Frame TV wall-mounted, and you don't want to do it your self, it will cost you $100 extra to get it professionally done.
For more details on this specific model of the Samsung Frame TV, and why we think it's worth a look at this record-low price, scroll down. Want to look at the competition? We've got a page on the best LG G1 prices out there (that's LG's Gallery TV range).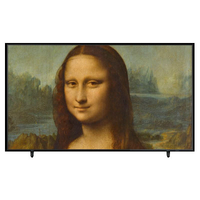 Samsung Frame TV (50-inch, 2022)
Was: $1,299.99
Now: $879.99 at Woot!
Save: $420
Overview: The 50-inch, 2022 model of the Frame is our current pick for the best TV deals right now. It's at an all time low, and 50-inches seems like an ideal size for a TV that doubles up as a beautiful picture frame. Pro wall mounting included for an extra $99.99.
Key features: This is the best example of the 'art TV'. A 4K TV that, when not acting as a TV, displays your favourite art in glorious high definition. You can get a subscription of all the world's finest art for $7 a month, or display your own collection (or both). The ultra thin bezels and changeable frames make it look like a high-end framed piece of art.
Price history: The 50-inch model retails at $1,299.99, though we've seen it dip lower than that since it was released in April 2022. This current price of $879.99 is the all-time lowest price that we've ever reported on.
Price comparison: Amazon: $1,299 | Best Buy: $1,299
Reviews: All the reviews that we've read have said that the 2022 model of the original 2021 Samsung Frame TV builds on the original in all the right ways. It's true that the sound won't be comparable to most sound bars out there, but this is very much more about the visuals.

Don't want the 50-inch model? Here are a range of the best prices on the other sizes of the Samsung Frame TV...