Vertex, the ultimate virtual event for the digital art community is back! We're here for a week-long celebration of the CG community. The online event sees Creative Bloq partner with 3D World and ImagineFX magazines to bring audiences the best in 2D and 3D design.
Over the course of this week, Vertex brings together some of the most creative minds in the industry to inspire and share their expertise, and offer fantastic networking opportunities. You can find new videos and interviews on the Vertex Week channel from 21 March.
Vertex Week 2022 will be hosted right here on Creative Bloq, so make sure to bookmark this page for all the latest information. Throughout the week, our editorial teams will bring you the best content from the event, including talks from a plethora of exciting speakers and amazing workshops. See below for the full schedule.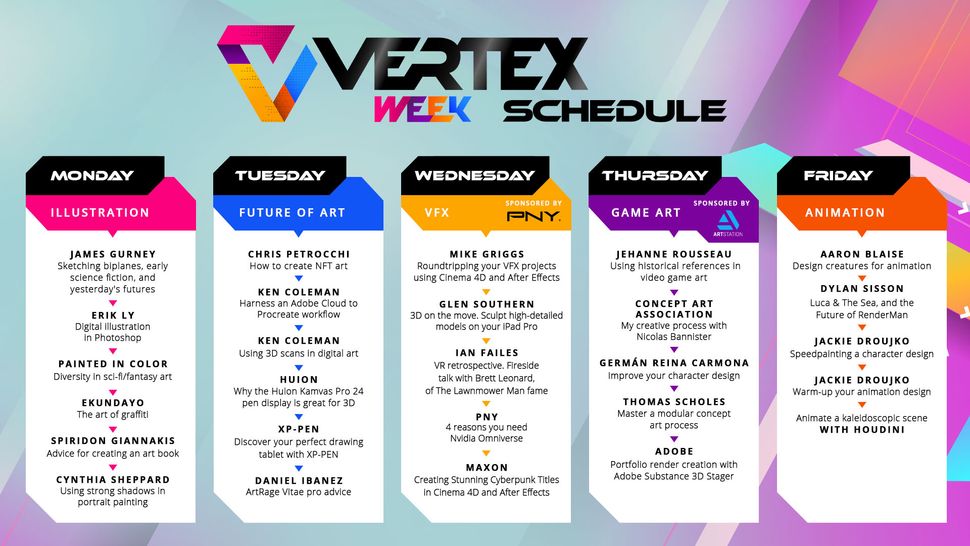 Monday - Illustration
Vertex Week 2022 kicked off on Monday 21 March with dedicated advice and tutorials for illustration. Iconic Dinotopia artist James Gurney shares his painting process as he reveals how to capture a real life scene but also how research can aid your approach whether panting from life or the imagination.
Want to follow in James Gurney's footsteps and publish your art book? Then don't miss advice from publisher Spiridon Giannakis who shares his tips for getting a book deal; it's advice every artist needs to hear.
Art can be made anywhere, and the fantastic Ekundayo shares how he paints outdoors, as he takes us through his process of creating dynamic graffiti art. Join Ekundayo in Hawaii for his exclusive video.
The team behind the amazing Painted in Color podcast joined in with a specially recorded episode. Organiser and art director Lauren Brown was joined by co-hosts, fantasy and sci-fi Illustrator, Eric Wilkerson, fantasy illustrator and writer, Mia Araujo, and vis dev artist and concept artist, Esther Wu.
"We discuss diversity in the fantasy art industry, how it has impacted our lives and our own work, and what we are each doing to address the issue," says Lauren.
All of this and there is advice for perfecting your digital sketches in Photoshop and learn how to paint shadows in portraits.
Follow our live Vertex blog for all the action from day one of Vertex. Or see all the links below:
Tuesday - The Future of Art
On Tuesday, digital artists got a glimpse into the future with a look at how Adobe software is transforming digital art. Ken Coleman shared his process for using Adobe Cloud with Procreate to speed up and experiment with his art on iPad.
NFTs are the hot art trend for 2022 and Vertex Week has been delving into what they are and how artists can uses them. Chris Petrocchi's video explained what NFTs are and how you can create NFT art yourself.
Ken Coleman returned with a tutorial on how to incorporate 3D scans into your digital art workflow. He took you through the scanning process and how 3D objects can form the basis of retro-feeling 2D digital art.
There were also be classes on getting more from ArtRage's new tools, a spot from XP-PEN about its popular drawing tablets. Plus, 3D artist Rob Redman exploring how Huion's Kamvas Pro 24 aids his 3D work.
See all of Tuesday's links below:
Wednesday - VFX in association with PNY
On Wednesday we had a veritable feast for VFX artists, in association with PNY.
They were portfolio tips for catching the eye of film art directors, a class on environment and scene design, and a tutorial on using Cinema 4D to After Effects with expert Mike Griggs. Journalist and VFX expert Ian Failes was also on hand to share his views on retro effects and what we can learn from the past.
Glen Southern shared his process for sculpting in 3D and Nvidia will be explaining what the Nvidia Omniverse is and why you need it. Developed in association with Pixar, this is a must see. See below for links to all of Wednesday's content.
Thursday - Game Art in association with ArtStation
Thursday is game art day, in association with ArtStation. Spiders' founder and CEO Jehanne Rousseau shares how her art team has used historical references to bring its PS5 game SteelRising to life. Plus, there are opportunities to level up your character design and environment concepts in our masterclasses.
Olli Olli Worlds Germán Reina Carmona will take you through is techniques and thought processes to enable you to improve your character design for video games. His designs are cute and vibrant, and his talk is not to be missed.
We expect to be joined by leading concept artists to discuss work-life balance in today's industry, as well as career advice and useful tips to breaking into the video games industry. See below for links to Thursday's content:
Friday - Animation
Last, but by no means least, animation is in the spotlight on Friday. Pixar's Dylan Sisson is our very special guest, who discusses the making of animated short Luca & The Sea, as well as the future of RenderMan.
The incredible Aaron Blaise will also be taking part, sharing his knowledge and processes. The experienced digital artist and animator will be on hand to answer your questions too.
Illustrator and animation Jackie Droujko will deliver a double-hit of tuition as she first explains how to make use of research and warm-up exercises to hone your character design style, before returning with a speed paint masterclass.
And there's also a tutorial on animating a kaleidoscopic scene in Houdini, by Carmelo Barberá. Discover all of the videos via the links below:
Read more: