Deciding between one of the best drawing tablets for creating digital art, or investing in a pro-level iPad can be tricky. There are pros and cons for each type of drawing tablet, and although for some creatives Apple's iPad Pro is the more convenient choice, other pros will need the size and tech of purpose-built drawing tablets.
It all boils down to your own preferences on display size, stylus brand, app and software compatibility, ease of use, desk space, and of course your budget. Digital art and illustration can be a very expensive medium, so ideally, you'll want to choose the perfect setup from the get-go that has everything you'll need.
iPad vs drawing tablet: Features
Drawing tablets
Traditional drawing tablets (or pen display) are a popular choice and generally suitable for digital artists, although they aren't the best for on-the-go use, as they need to be hooked up to an external computer, laptop, or monitor so you can see what you're doing (though many now run off smartphones). We've covered a lot of these tablets in our best budget drawing tablets guide, but most of these picks are targeted at beginners and not pro-level artists.
If you have a work-from-home setup or home studio space already equipped with one of the best 4K monitors, then a drawing tablet without a display is a great and easy-to-use option that will complete your setup at a reasonable price.
You can of course get a portable monitor to pair with your drawing tablet should you need to work outside, or you could use your laptop if you're on the train, or smartphone (but apps are limited). But if having a portable setup is crucial to you then it might be wise to invest in either a pen display tablet (see below) with its own screen built-in (but it still needs a computer), or an iPad instead.
If you're set on a drawing tablet, then we recommend the Xencelabs Pen Tablet Medium (check out our review) as our top pick for the best overall value and build quality. We gave it a 10/10 rating and recommend it for illustrators, digital painters and photographers.
However, if you want something even more budget-friendly, we'd recommend the Huion Inspiroy Dial 2, the tiny Xencelabs Pen Tablet Small or for a slightly more modern pen tablet, the Wacom Intuos Pro is a great choice. See the lowest Wacom One Prices for the best deals on this leading brand's newest budget drawing tablets.
Pen Displays
Pen displays are another type of drawing tablet that are equipped with their own built-in screens. A lot of pen displays are considered to be pro-level, and are much costlier than your basic drawing tablet, with advanced designs and features for artists.
The benefit of choosing a pen display over a screenless drawing tablet or iPad Pro is that they tend to have larger screens (up to 24 inches), can run full software programs such as Adobe Photoshop (because these still run off a laptop), and arguably have better stylus options, with more pressure sensitivity, compared with using a stylus on an iPad (the new XPPen's new Artist Pro (Gen 2) series has 16,384 levels of pressure).
These display tablets also boast other neat design features such as handy quick keys for software shortcuts, the stylus can be calibrated with the display for improved accuracy, and colours are brighter too thanks to the higher colour gamut.
The downside to pen displays is the premium price, as well as a more complex setup process that can be off-putting to beginners. You also can't use the digital art software Procreate or Procreate Dreams, available only on iPad. But if you travel frequently and need a lightweight and portable setup then you should probably avoid a pen display drawing tablet.
We would recommend the Xencelabs Pen Display 24-inch tablet as our top pick for a luxury drawing experience, but this display can be considered too big for a lot of creatives. Other options include the expensive Wacom Cintiq 22, ideal for students when paired with the Wacom Pro Pen 2, and lastly the XP-Pen Artist Pro 16 (2nd gen) as a mid-range option for those who have a looser budget.
A quick word on pen computers - these are all-in-one displays with high-spec GPU and CPU configurations designed to run 3D software, CAD and 2D software. These are essentially a powerful Intel i7 laptop with a Wacom screen and stylus. If you're serious about digital art, are creating animation and 3D art using full software suites such as Blender, Unreal Engine 5 and Cinema 4D, ZBrush and what to replace a laptop on your desk, then the Wacom MobileStudio Pro 16 ($3,499.95) or Huion Kamvas Studio 24 ($2,399) are the current picks.
iPad tablet
If you're not sure about owning a drawing tablet or pen display, there's always the option of the ultra-portable tablet - the most famous and widely used being Apple's iPad. There are several models, but for digital artists we would suggest the iPad Pro model as one of the best iPads for drawing, specifically the iPad Pro 12.9-inch (M2, 2022) which is top of our list. You can also get away with using the iPad Air (5th gen, 2022) powered by the M1 chip as a dedicated drawing tablet.
The reason that iPads are excellent tablets for drawing is not only down to reasonable pricing, but also the fact that they are 'pen computers'. That means iPads are capable of running the best digital art software (although not full editions) and necessary apps, and they already have gorgeous displays too, just not as big.
The comparable drawing tablet would be the high-end Wacom MobileStudio Pro 13 ($2,599.95) which is around $300 more than the iPad Pro 12.9-inch (6th Gen), so for many the Apple is a good option as its as powerful but thinner and lighter.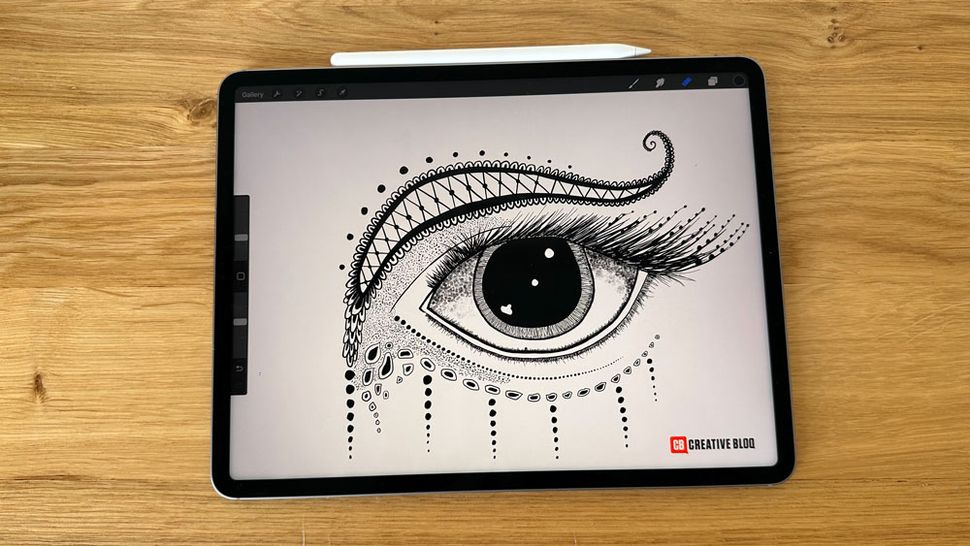 There's also Procreate software, which is exclusive to the iPad, and the easy-to-use touch screen and gesture controls with the iPad are great for those already familiar with and accustomed to Apple products.
One thing to note about using an iPad as a tablet for drawing is that they benefit massively from a matt cover for the screen, such as the Rock Paper Pencil, to avoid any unwanted gliding around the glossy screen as you draw and damage and wear to both the screen and Apple Pencil.
iPad vs Drawing Tablet: Price
One of our favourite pen displays, the Wacom Cintiq 16, retails for around $649.95/£529 – and this is one of the least expensive Wacom pen display tablets that you can buy. Thankfully, Wacom has recently announced a new product family and Wacom One budget range with prices starting as low as $59.95 (excluding accessories) for the smaller pen tablet.
As for budget drawing tablets, we do see some excellent prices on popular models during seasonal sales, including this year's upcoming Black Friday, with the Wacom Intuos (Small) pen tablet already discounted to $39.95 at Amazon.
The price of a drawing tablet does depend heavily on whether it's a household name or not, and Wacom used to dominate the sector before Xencelabs, Huion and XP-Pen came along, offering lower prices for the same feature-rich kit.
Speaking of Xencelabs, our Editor, Digital Art and Design (and drawing tablet expert) Ian Dean thinks that the new Pen Display 24 Studio Series from Xencelabs is the ultimate Wacom destroyer, and can be had for a price of $1,899/£1,850 compared with the Wacom Cintiq Pro 24 which retails for $2,199.95/££1,949.00.
As for the latest M2 iPad Pro model, this usually retails at $1,099/£1,249 for the entry-level specs. The best iPad Pro 12.9 prices and deals tend to fluctuate a lot throughout the year.
iPad vs Drawing Tablet: Black Friday 2023
Black Friday is just around the corner, and there are already a huge number of retailers out there offering some excellent drawing tablet Black Friday deals. We're already seeing price cuts on popular models such as the Wacom Cintiq Pro 24 in the UK with £150 off at Wex Photo Video, as well as in the US with $50 off the Huion Kamvas Pro 16.
We don't often see mind-blowing discounts on Wacom (these are normally fairly modest offers), but other brands like XP-Pen, Huion and Xencelabs run Black Friday and Cyber Monday deals that are worth holding out for.