Not all of us have the time or inclination to craft our own creative resumes, and arguably having a flashy or beautifully illustrated curriculum vitae printed on 130gsm paper is of far less importance than a well-presented design portfolio.
But your CV still needs to clearly impart key information about your career, while displaying a little of your personality. We've had a search around and found these 15 free resume templates, each of which offers something a little different. Here goes.
This is a splendidly vintage-looking resume template in deliciously earthy tones, and it comes as an .AI file so that you can adjust it to your heart's content. Be aware, though, that the fonts aren't included, so you'll either have to hunt them down yourself (they're all free, luckily) or substitute your own.
Fully layered and well organised in order to keep customisation nice and easy, this bold and punchy visual template enables you to get yourself and your skills across quickly, without any messing. It comes as a print-ready 300dpi A4 PSD, ready for editing in Photoshop.
Depending on the type of application process you're dealing with, it may be appropriate to include samples of your work within your CV. This template is great if you have images of visual work that you'd like to form part of the resume, and there's also space for a cover letter.
Fitting a lot of information onto your first page can help to a grab a recruiter's attention, and a two-column layout is a way to achieve that without making your page look cluttered.
This minimalistic free resume template was created by graphic designer Patryk Korycki. An AI file, the design features typeface Open Sans, with various fields available to enter education details, skills, interests and much more.
This subtle yet stylish CV template features all the details you need to include, along with a neat sidebar holding a profile and references and a timeline – in which you can list your employment history. There's also an online profile section to show just how social media-savvy you are and a software skills bar graph so you can show your exact skills. It's supplied in PSD, AI and INDD formats.
This simple, elegant free resume template is one of many presented by Designscrazed. The design is separated into easy-to-read, clear sections with an option at the bottom for you to add icons to indicate your hobbies and interests, which is a nice touch. The zip file contains three psd files to build your personal resume, cover letter and a portfolio web template should you wish. All layers are well grouped and easily edited in Photoshop.
A lot of the time, less is more when it comes to CV and resume design – and this subtle, minimal template is perfect for communicating your work history and profile in style. There's room for a photo (we'd suggest black and white) and you can either change the background colour or print onto coloured paper for a unique and stylish CV.
If icons are your thing, check out this free template (only free for a limited time, mind) from designer Fernando Báez. A sectionalised design, complete with stylish type and icons included (you get the CV in AI format and the icons in PSD), this resume is perfect for customising with your own icons to represent your interests and achievements.
Sure, this may not be to everyone's taste – but it's certainly impactful. A central typographic column bursts out to boxes in which you can add your details. The resume is supplied in AI format so you can easily export a PDF – and comes in black and white so you can get creative with colours.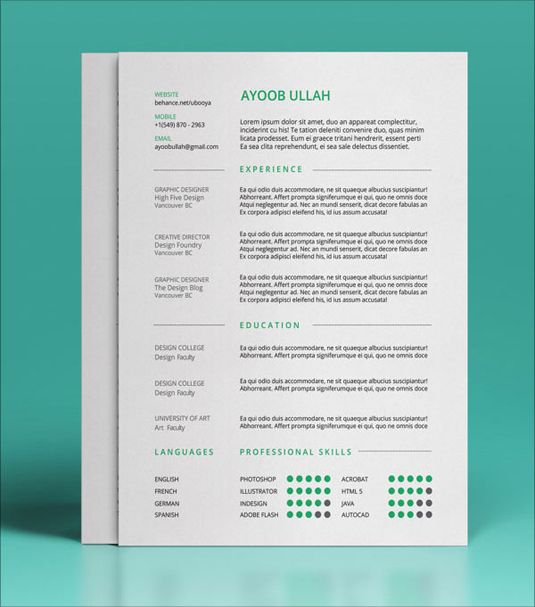 Again, simplicity is the key here in a type-based CV (using Open Sans) that puts profile at the top, then lists experience and education in simple boxes with left-hand sub-headers. There's also – and this seems to be a trend amongst resume designers – a professional skills section enabling you to grade yourself out of five on software, code and the like (stick them all to five if we were you).
This highly-customisable resume template comes in PSD and AI formats and has a Smart Object header, meaning you can quickly and easily link in an image of your choice. It's A4, 300dpi, with 3mm bleed – so completely print-ready. Just add your logo, bio, experience and so on and you're ready to print and send.
Keep it super-minimal with this resume template. Once again there's a bar graph for your skills (which we're still not sure about but some employers may like) along with a neat icon style to represent your social media profiles and software competence. It's supplied in layered PSD format.
Maybe you're looking to make more of a statement with your one-pager – in which case this typographic template by Paolo Pettigiani may be just the ticket. Easy to customise and available in AI format with all the necessary fonts and icons, it's definitely worth experimenting with.
A modern resume with room for everything you'd need to say about yourself and more, we like the placeholders for adding imagery and your personal logo or logotype in the header. There's also a services list, skills graphs and client box. A comprehensive PSD resume that you may need to cut down to size a little.
Related articles: